Experienced, Innovative, Respected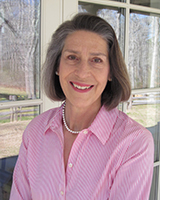 Deborah's design work, from estates to simple beach cottages, Park Avenue classics to Manhattan studios, wins praise and appreciation from experienced clients and millennials alike.
Client objectives are met through innovative methods that enable her East Hampton-based business to serve clients from Montauk to New York City and Westchester with a professionalism that ensures each project reflects the owner's distinctive taste and runs smoothly and cost-efficiently. Professional services are billed at an hourly rate. All purchases are net cost to-the-trade. All transactions are transparent; the client sees all invoices for furniture, furnishings, and trade workrooms.
What Clients Say
Water Mill, Manhattan and Scarsdale
"We have worked with Deborah on numerous projects over the last twelve years in our primary and vacation homes, and we can honestly say we wouldn't want to work with any other designer. Deborah is the whole package: she's creative; incredibly knowledgeable – not just about design, but also the underlying architectural and construction principles; able to direct a project single-handedly or work as part of a team; plugged into a huge variety of vendors, suppliers and craftspeople; accessible and responsive to a fault; and a stickler for the details. Moreover, her taste is exquisite! On top of all her professional attributes, Deborah is an absolute joy to work with. She has helped us do everything from new builds, to major renovations, to minor renovations, to just decorating. She listens and won't rest until she finds the piece or effect we absolutely fall in love with. We would recommend her enthusiastically without any reservation."
Sag Harbor and Park Avenue
"Deborah has worked with me on four homes (two apartments, two houses). The projects we have worked on have ranged from upholstery selections to full renovations. In every situation, she excels. Her warm personality and sense of humor make the projects fun. Deborah has a full range of professional skills in interior design and decorating. She can help you with classic to modern design. What I found particularly helpful, is Deborah's working with my taste, but refining it. That is a major plus. Your home is then, still yours!  She is a real team player. All the contractors and trades people who work with Deborah say, 'we would work with her on anything! She is respectful and patient. I give her the highest recommendation."
Montauk Ocean-front
"My home looks soooo amazing! Thank you!"
Amagansett Bay Beach-front-cottage
"Thanks Wonder Woman!"
Lower Fifth Avenue
"Our very first apartment, and it required a renovation that Deborah designed perfectly to our demanding tastes and managed to perfection, on time and on budget."
Education and Awards
New York School of Interior Design: Bachelor of Fine Arts (BFA) awarded with Highest Distinction
National Council of Interior Design Qualification (NCIDQ) awarded at graduation
Best of Houzz Pro, 2014, 2016, 2017